After a long, tiring and stressful day, we all dream of a comfortable bed, soft sheets and pillows, and a peaceful night's sleep. To optimize these results, adopt silk, more precisely silk pillowcases .

But how to choose your silk pillowcase? Silk is a material that has many benefits for humans. It is soft, sumptuous and equipped with soothing and regenerating fibers. The perfect choice for a perfect night. But before that, choose your pillowcase carefully in pure silk.

Several criteria must be taken into account for this choice, we will explain.
THE MOM
Before buying your silk pillowcase, you should think about estimating its quality and thickness in relation to its weight and for this, we use momme. The momme is the unit of measurement used during the imperial era to determine the weight of silk per square meter, to thus define the quality of the fabric by determining the quantity of silk present in 1 square meter of fabric. Please note that 1 momme = 4.3056 g/m², the silk market has 10 to 25 momme. The higher the momme, the heavier, thicker and better the silk, and therefore softer, and much more durable.
For a quality, resistant, easy to maintain and durable silk pillowcase, choose 19 or 25 momme. A 19 momme silk pillowcase should contain at least 500 threads, it can last several years provided you follow the washing and maintenance instructions. 25 momme , is the highest index, and corresponds to the best silk in the world, although it only contains around 750 threads. We differentiate the 19 to 25 momme by the feeling of silk when touching them, compared to the 19 momme pillowcases, the 25 momme pillowcases appear more lustrous and are even more durable.
Silk is a material that has many benefits for humans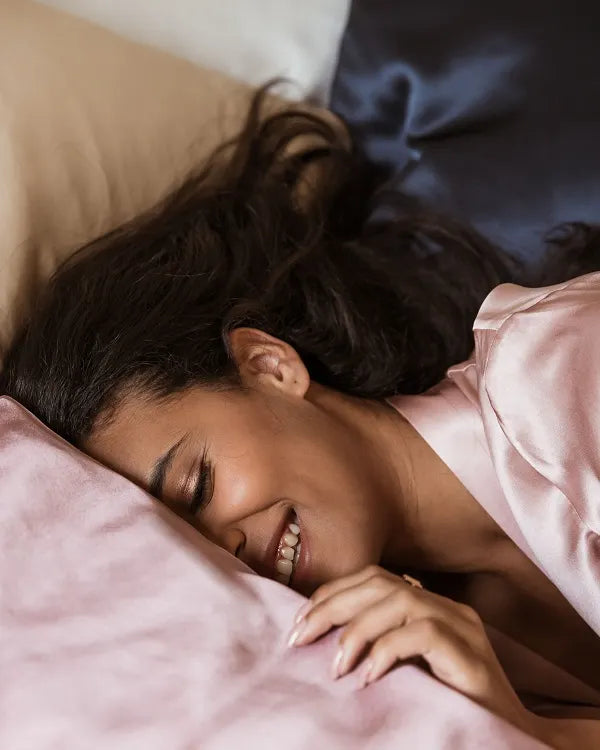 Once the momme has been chosen, you have to think about the grade of the silk.
THE GRADE OF SILK
A silk pillowcase is considered of superior quality when it is made from mulberry silk with an index of 19 mommes and grade A. And what is grade?
This is because silk is graded on a quality scale from A to C, with each letter referring to a different type of silk pillowcase quality. The highest grade being A, and the lowest C. Grade A therefore corresponds to the highest quality silk product. We then add the number to the letter in order to confirm the classification, you can find silk in 3 A, 5 A or 6 A, knowing that 6A is the highest and therefore corresponds to the best quality of mulberry silk which exist.
OEKO TEX
Always in the constant search for the best quality, the naturalness and transparency of the fabric are also a criterion to take into account when choosing your silk pillowcase. Oeko tex certified silk bed linens are an excellent choice. The Oeko tex label is an international quality label which includes several strict technical standards to certify the health and ecological qualities of a fabric.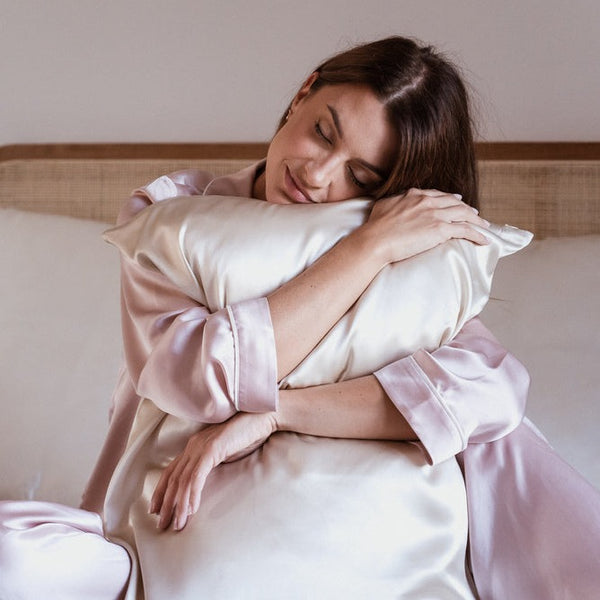 Oeko tex certification is awarded to companies that use no or very few harmful substances in their production.
If you choose your silk pillowcase from an Oeko tex certified company, you can rest assured that your product is authentic, high quality and durable. This standard is a guarantee that your silk pillowcase is free of products harmful to your health and the planet, because the label acts internationally in favor of the well-being of the environment.
VEGETABLE DYE
Once you are sure that your pillowcase is Oeko tex certified, you can now look at what type of dye it is dyed with?
Vegetable dye is ideal, because it comes from 100% natural material (plants, fruits, minerals, insects, etc.). Vegetable dyes do not contain any products harmful to your skin or your health. In addition, they are not harmful to the environment as the ingredients used for production are 100% natural material, they are also 100% biodegradable. Vegetable dyes are therefore free of chemical substances that are very often found in synthetic dyes such as dichloromethane, phthalate or even dimethyl fumarate. Emily's pillow pillowcases are Oeko tex and vegetable dyed, unique and lively colors that will evolve over time and the way you care for them.


WEAVING (ARMOR)

Also find out about the different fabric weaves used to weave your pillowcase. The weave is the way of weaving, the way the warp and weft threads intertwine. There are three main weaves: canvas , twill and satin , the fabrics are made according to their combinations. The satin for example, is the best known weave and also the most fragile, it is used to weave silk. It is a shiny and fine fabric on the front and matte on the reverse, it is also smooth, soft and fluid, ideal for silk pillowcases. During creation, one of the threads overlaps four or more other threads, which gives it its shine as well as its softness.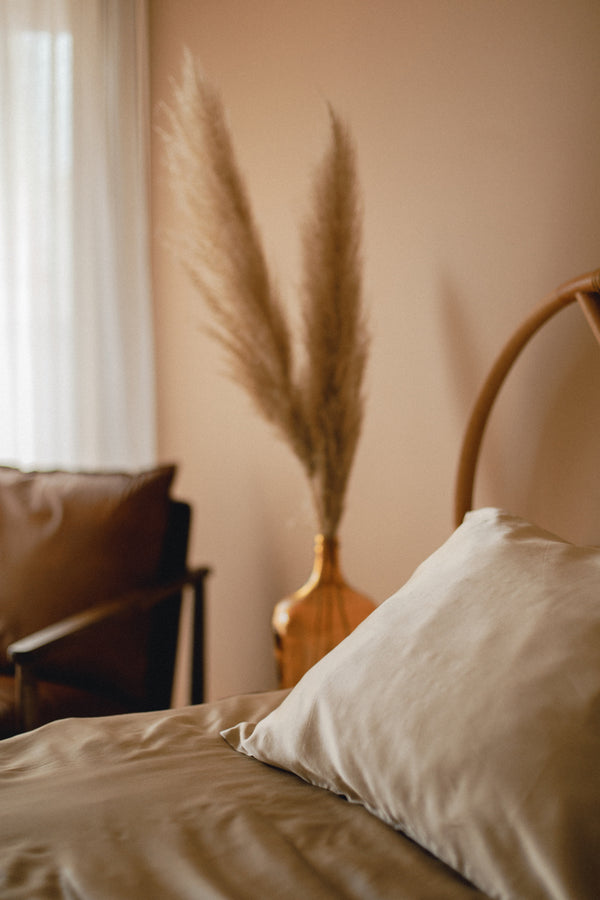 The canvas or taffeta weave is the oldest and simplest of weaves, the odd and even threads alternate with each stroke, above and below the weft, which gives a large number of thread crossings warp and weft. The fabric has a grainy appearance, without right side or reverse side. Canvas and taffeta are structured in the same way, but are not made of the same materials. Canvas is used for fabrics made from discontinuous fibers such as cotton, wool, etc. Taffeta, on the other hand, is used for fabrics made from continuous fibers such as silk.
Taking care of your hair is part of everyday life
THE CLOSURE
After the technical criteria let's move on to the aesthetic criteria, the closure, which closure should you choose for your silk pillowcase? We tend to neglect this detail but it is very important, what to choose between a zip and a wallet closure? A pillowcase with a wrap closure is made up of two parts folded over each other to close the case. Your pillow is well maintained inside and it is aesthetically pleasing on the right side, on the other hand, you can often see part of the bare pillow, moreover the wallet closure does not make it easier to put on which may take a little longer than normal.
Always, when putting it on, the fabric can crack at the two folded parts due to the force to put the cover on a thick cushion for example, which is not very aesthetic. The zip, much more popular in the bed linen market, is also much more practical, quick to put on and aesthetically pleasing both on the right side and on the reverse of your silk pillowcase is stupid.
If you have assimilated and taken into account all these criteria, you now know how to choose your silk pillowcase, so you can easily benefit from all the benefits of silk on your body, your health and your hair.