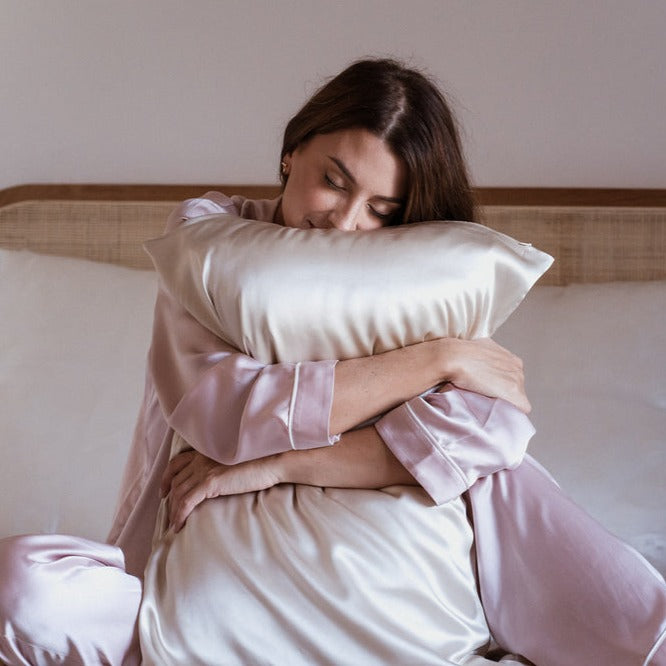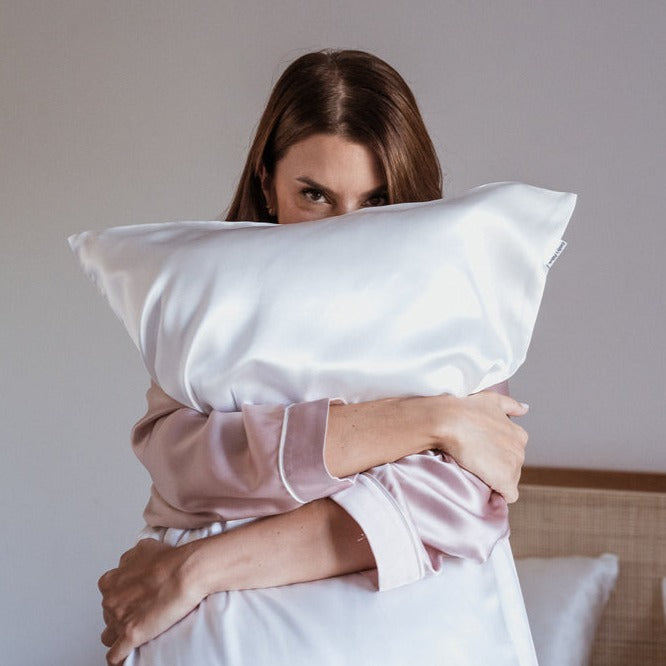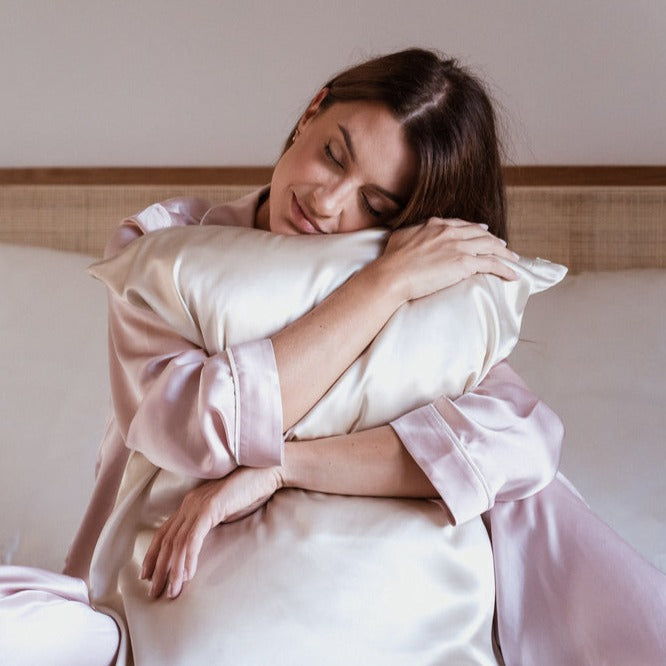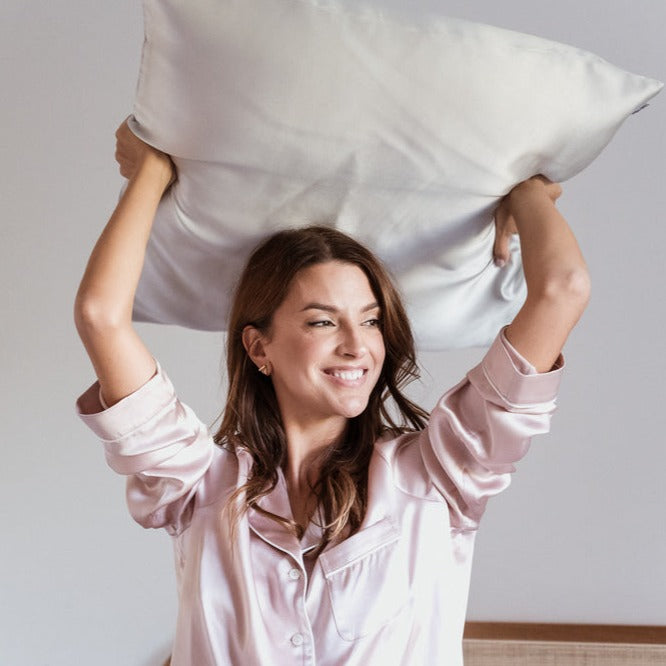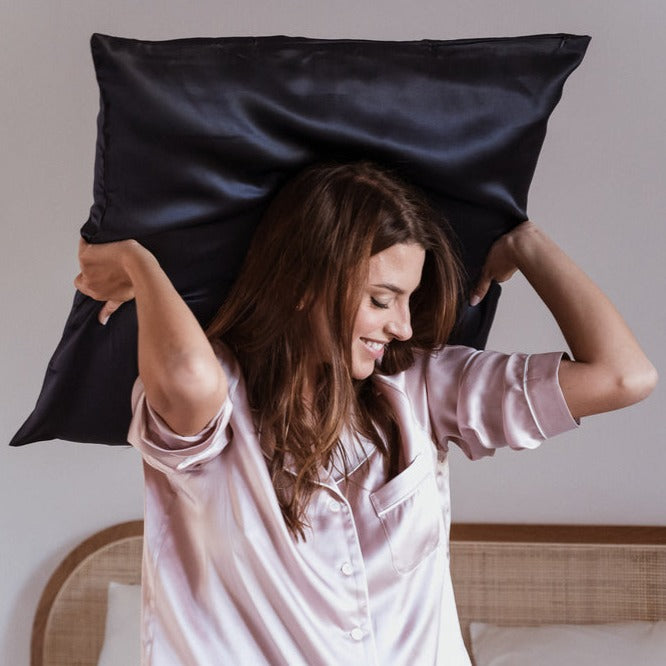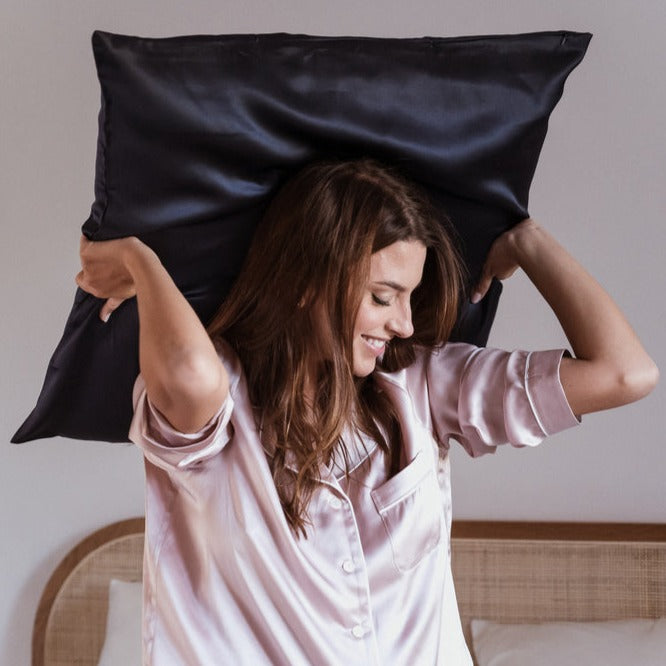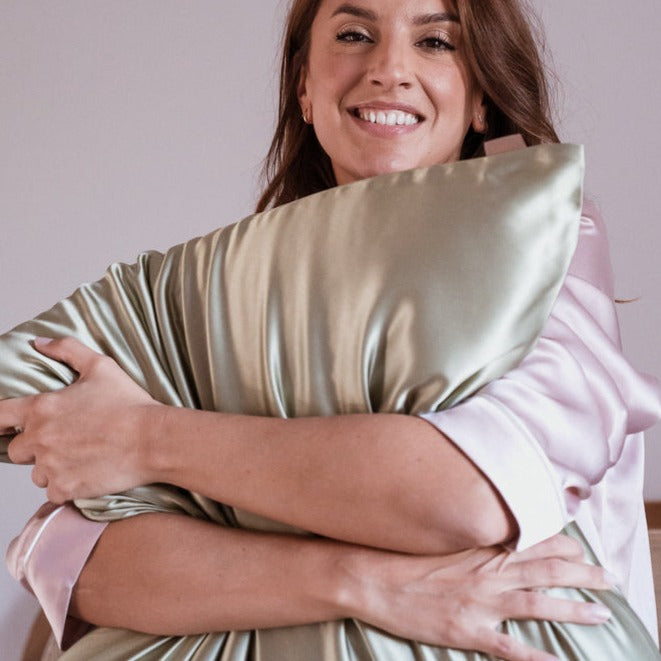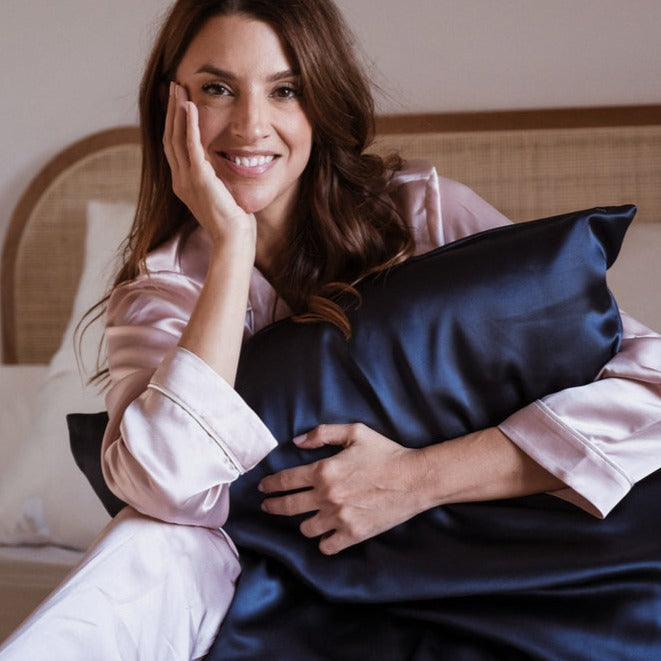 LUXE Pure Silk pillowcase - Made in France
In stock
All of our products are handmade.
Composition

100% mulberry silk, 25 momme, grade 6A.
Interview

3 choses doivent être respectées pour laver votre soie afin qu'elle vous accompagne de longues années :

Laver à 30° en machine
Essorage de 600 tours/minute 
Laver sur l'envers

En plus de cela, il est recommandé de les laver dans un filet de lavage et avec des couleurs similaires.

Les taies en soie sèchent en quelques heures ! 

Très pratique, vous n'avez pas besoin de repasser vos produits en soie.

Pour en savoir plus consultez notre article.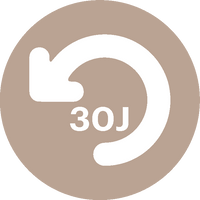 Retour
sous 30 jours
Livraison 48h
offerte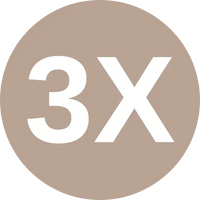 3 fois
sans frais
Supprt client
5/7 jours
1/ Effet anti-âge
La douceur de notre soie est idéale pour les peaux sèches et sensibles. Notre matière provoque moins de frictions et cela se ressent sur votre peau.
Des propriétés anti-rides incomparables grâce aux 18 acides aminés naturellement contenus dans la protéine de soie.
2/ Cheveux plus brillants, moins cassants
3 x plus douce  que le coton, la taie d'oreillers en soie préserve la fibre capillaire.
Les acides aminés contenus dans la soie permettent de conserver l'hydratation des cheveux. Ils sont donc plus brillants et moins cassants.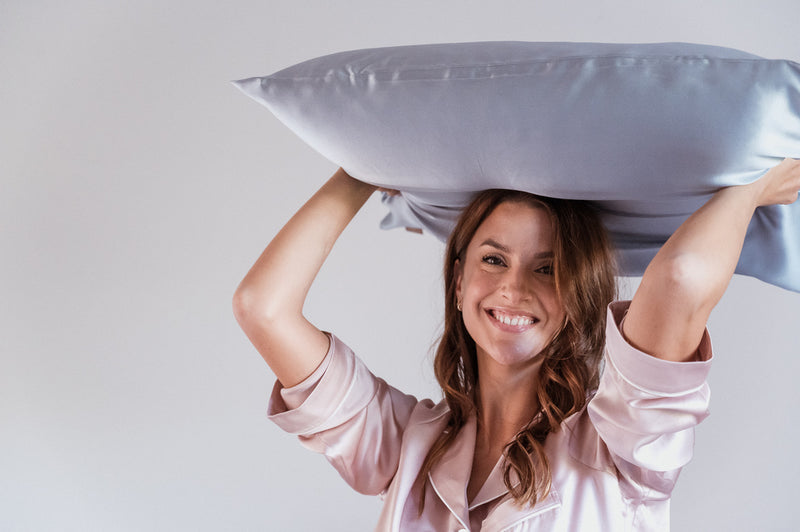 3/ Préserve votre peau et la rend plus belle
La douceur de la soie glisse sur votre peau et la laisse respirer sans absorber vos crèmes. Elle protège votre peau nuit après nuit.
Résultat : La peau tire moins au réveil et elle est plus lumineuse.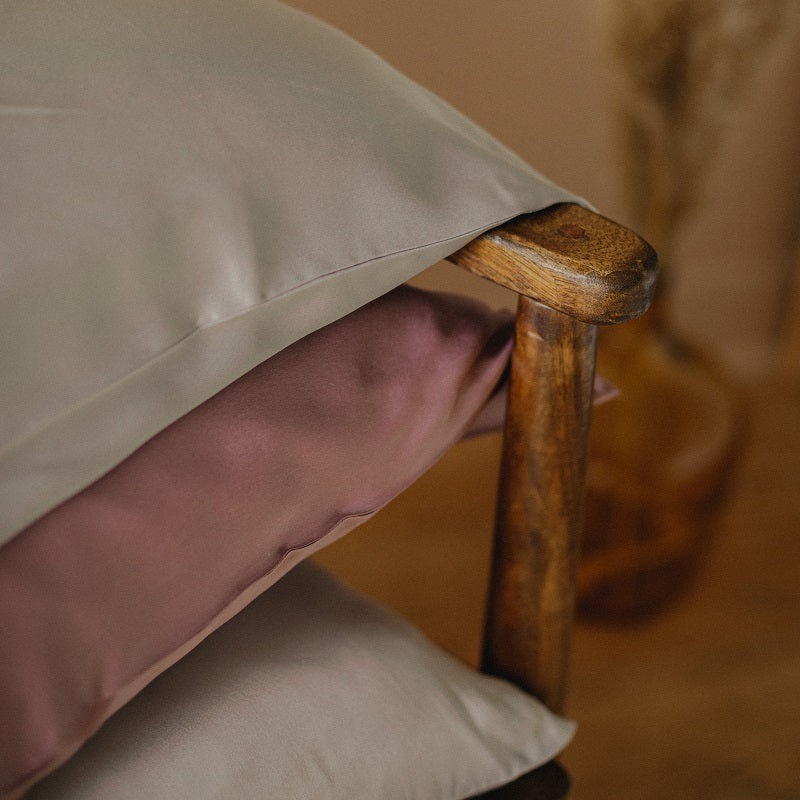 4/ Zip invisible et finitions soignées
Tous nos produits sont faits mains dans des ateliers historiques.
Parce que nous avons le soucis du détails, nous avons pensé à votre confort en intégrant une fermeture discrète à Zip renforcé et des finitions soignées.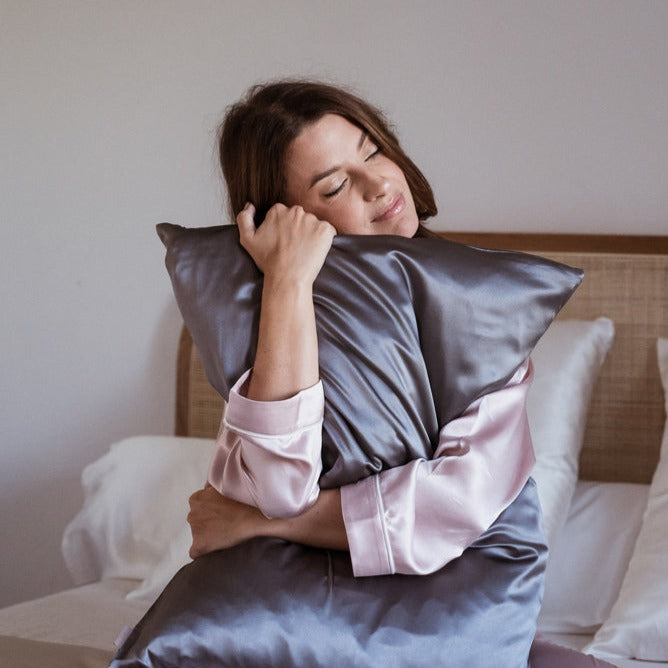 5/ Thermorégulatrice
Naturellement thermorégulatrice, la taie d'oreiller en soie vous apportera de la fraîcheur en été et de la chaleur en hiver. Elle est donc idéale pour vos nuits d'été ou les nuits plus fraiches.
6/ Un emballage soigné
Votre taie d'oreiller en soie vous est livrée dans une jolie enveloppe aux couleurs d'Emily's Pillow !
Un vrai emballage cadeau pour l'offrir ou vous l'offrir.
& Idéal pour l'emmener partout !
7/ Se lave à 30° en machine
Nos taies d'oreiller en soie passent en machine à 30° et sèchent à l'air libre en quelques heures. Pas de repassage nécessaire !
Bref, ultra simple d'entretien.
"Silk, an anti-hair breakage ally. Silk contains amino acids and proteins, so it will provide hydration to your hair."
"Silk contains amino acids and proteins, so it will provide hydration to your hair," explains Laure. "It will be shinier and the ends will be less split."
"Would you like to have soft, silky hair that doesn't tangle, and beautiful, smooth skin when you wake up? It's possible! With Emily's Pillow silk pillows."
"Laure Lagarde created Emily's Pillow in March 2020. The company sells silk pillowcases online known to protect the skin's moisture during sleep."
Découvrez nos taies d'oreiller 100% soie !
Anti-âge, anti-rides, cheveux plus brillants ...
1 mois, le résultat est là
J'utilise quotidiennement mes taies d'oreillers en soie depuis maintenant 1mois, le résultat est là ! Mes cheveux sont bien moins secs et gonflés, ils sont souples et soyeux. Je n'utiliserai plus de taies en coton, je recommande vivement vos taies d'oreillers en soie 😍
Un confort supplémentaire
Les cheveux de ma fille avant et après avoir dormi sur de la soie. On a de suite senti la différence avec le coton. Je l'ai déjà lavée 3 fois et la taie n'a pas bougé, je la lave en machine à 30° comme indiqué. On sent vraiment un confort supplémentaire avec la soie! J'adore !
Reçues rapidement
J'ai toujours utilisé des taies en coton classique, je n'avais jamais pensé à passer à la soie. Je me suis lancée sur les conseils d'une amie, et je ne réutiliserai du coton pour rien au monde. Reçues rapidement, j'en ai commandé deux paires et j'en suis ravie. Merci !
Why our silk
It's incredible ?
Best quality

A very high-end silk, grade 6A, which lasts for years!

A production in France

A partly French confection, in Lille

Historical workshops

The 3 workshops we use have been selected for their know-how and expertise in silk

Oeko Tex

Our silk is organic, without harmful products and with vegetable dyes
Questions
You have 30 days from the date of receipt to return an item to us.
Here is the procedure for a return:
We invite you to return the item to us via the Return Portal in order to have the return label. Important : Please put it in its original packaging.
Please then send us proof of return by email (contact@emilyspillow.com) for tracking of the package.
We will proceed with the appropriate processing upon receipt of this proof.
Our products are delivered within 48 hours to your home or to a relay point depending on the delivery method chosen.
We leave your order "on hold" for 24 hours to modify it if you wish, then it is delivered within 48 hours.
Please note that our stocks are in Île-de-France, which allows us to deliver to you very quickly.
For products sold as pre-orders (out of stock), the shipping time will be communicated to you on the product page.
For more information visit the FAQ page
3 things must be respected when washing your silk product so that it lasts over time:
you have to wash at 30°
with a spin of 400 rpm (600 max)
wash inside out
In addition to this, it is recommended to wash them in a small protective bag and with similar colors.
Silk pillowcases dry very quickly, in less than a day they will be usable to sleep on again ;)
Very practical, you do not need to iron your silk products.
You will probably find your answer in our FAQ here .
Can't find your answer? Please send us an email to contact@emilyspillow.com or via the contact form .
We respond to all messages within 24 hours, excluding Saturdays, Sundays and public holidays. We will be happy to answer your questions or requests for information.