Sleep represents a large part of our lives and is crucial for growth and development and the preservation of our cognitive abilities. We know that reduced sleep time or poor sleep quality promotes physical and psychological problems.
It is sometimes difficult to get a full night's sleep; some people are very sensitive to outside lights and therefore need total darkness to be able to fall asleep and, above all, not wake up.
Emily's Pillow night sleep masks are made from 100% mulberry silk .
Does the night mask promote good sleep?
The sleep mask is a very simple way to help us fall asleep and, above all, not to wake up during the night.
This will also keep the light away and cause great darkness. You will have a relaxing and restorative sleep for your brain and your body.
Our brain associates darkness with sleep, using a night mask will increase melatonin levels and help us avoid opening our eyes and looking at the temptations and distractions in our rooms.
Sleeping with a silk sleep mask allows you to make the most of your nights.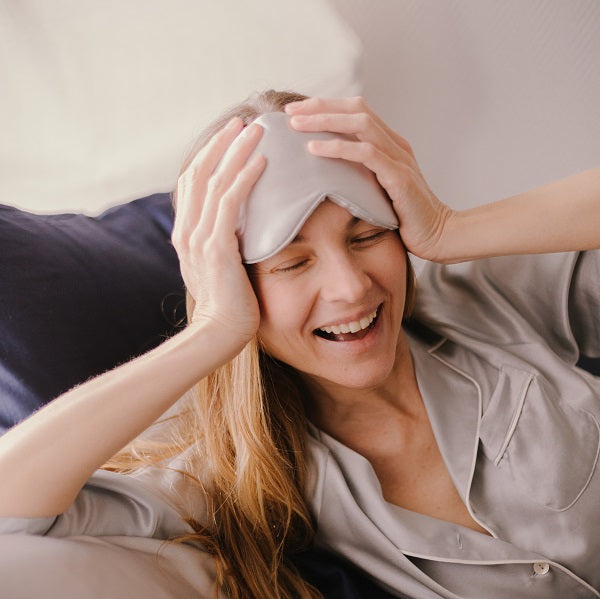 Why take a sleeping mask?
The silk sleeping mask will soothe the skin and reduce the appearance of wrinkles around the eyes.
This will bring a feeling of well-being and soothing to your face. The sleeping mask maintains skin hydration and will not absorb your eye creams.
THE ADVANTAGES OF SILK FOR YOUR SILK SLEEP MASK
1) THERMOREGULATING:
The silk sleep mask will help maintain the temperature of your face and head comfortably while sleeping. It will keep you warm in winter and cool in summer.

2) MAINTAINS HYDRATION AND ANTI-AGING:
The softness of silk glides over your skin and lets it breathe without absorbing your creams. Rubbing your eyes against the pillow damages the skin and accelerates the appearance of fine lines and wrinkles. A sleeping mask helps you avoid this friction and wake up without a mark on your face. It protects your skin after the night.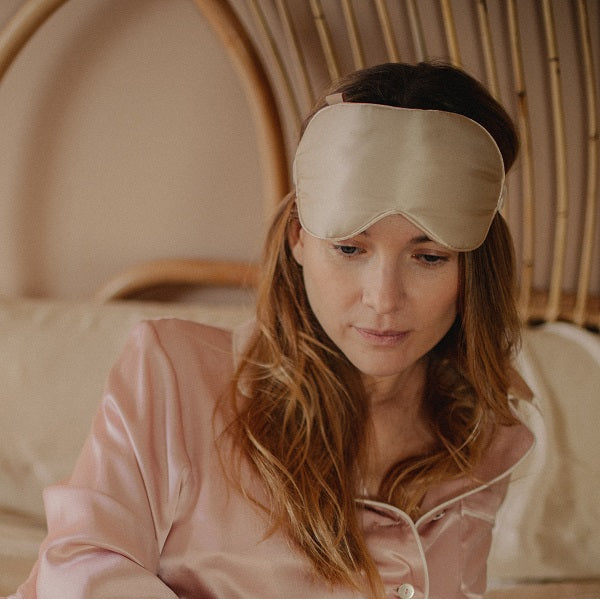 Result: the skin feels less tight when you wake up and is more luminous.


3) EASY TO CARRY:
It is an accessory allowing you to cover the light whatever the brightness level. Whether you are under neon lights or in direct sunlight, a night mask allows you to plunge your eyes into total darkness.
You can take it anywhere with

4) PROTECTS THE EYES:
At night, the eyes can be affected by numerous external attacks such as mites, pollen or even mosquitoes. The night mask allows you to sleep even without external elements reaching your eyes.

5) RESISTANT:
Your silk sleep mask will last over time. Silk is one of the most resistant materials. Your silk sleep mask is therefore a real investment.