For our hair, nighttime can be a complicated stage. If you don't yet benefit from the silk pillowcase from Emily's Pillow, you can opt for the Silk Night Cap from Emily's Pillow.
This cap will bring many benefits to your hair, which are not negligible. Silk is essential for the well-being of your hair due to its softness.
There are some pillowcase materials that do not provide any benefit. Certain materials damage the quality and cuticle of the hair. It is therefore important to know the different materials of pillowcases, and to be able to opt for the silk night cap.
1 - Cotton
Cotton is a widely used material, but that's not why it has a role to play.
What are the disadvantages of cotton?
This material absorbs sebum and over time, the friction of the cotton against the hair weakens the strands, and makes the hydration more susceptible to breakage, hence hair loss. This material does not contain amino acids, so the hair will be very dry after a night spent on a cotton pillowcase.
2 - Wool:
Wool is a material that lasts over time. It is composed of natural keratin which also makes up our hair and nails and which we tolerate very well. It is a material that lasts over time and remains comfortable for many years.
What are the disadvantages of wool?
Wool can shrink when exposed to high heat or become deformed when washed. It can expand or shrink. Many people find wool itchy, and are very sensitive to it.
Many people with long hair will often find that lying on a wool pillowcase at night will cause tangled hair. This can be very difficult to style and the hair usually ends up damaged.
Wool should generally be washed in cold water, by hand or on a delicate cycle, and it should be hung to dry naturally.
3 – Linen
It is a thermo-regulating textile, which will reduce the feeling of heat in summer. Linen is also a textile that causes few allergies, it is said to be anti-allergic. It is a healthy and natural material that is solid.
What are the disadvantages of linen?
Linen is a little rough, and some don't find it soft enough. It is often mixed with a little cotton to soften. Linen is also a material that wrinkles very easily.
4 - Bamboo
Bamboo is a very soft material. It is also a very good material for hair that has undergone treatments, hair regrowth, or even wearing a wig.
What are the disadvantages of bamboo?
Bamboo having many advantages, it still has some disadvantages. Firstly, it will not withstand washing at high temperatures or tumble drying, so this material will not stay soft for long. Your cotton cap will get rougher and rougher with each wash, which isn't very pleasant when your scalp is very dry or sensitive.
The different shapes of silk night caps
WHY A SILK HAT?
Silk is essential for healthy hair; this material provides a large number of benefits due to its softness. The silk cap does not mess up the hair, and helps maintain the bounce and definition of the curls.
The silk will also solve the problem of static electricity in our hair, and will avoid all kinds of friction, which will leave the hair soft and styled when you wake up.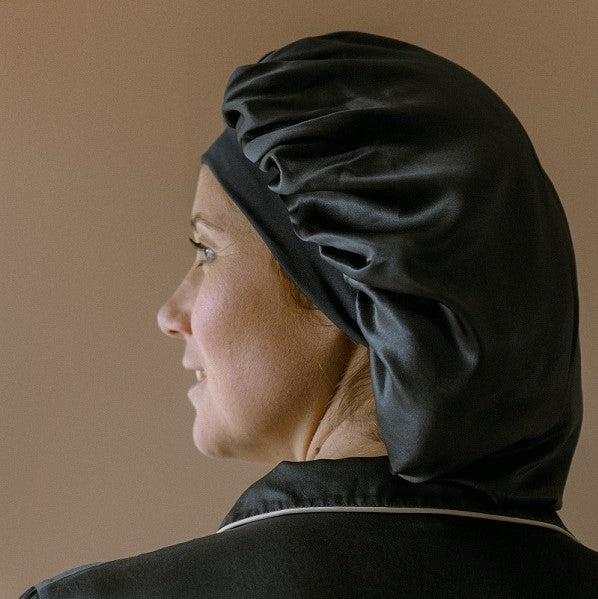 In contact with this material your hair will retain its hydration, and the result is visible from the first week of use!
Less frizz, less breakage, preserved curls and an easier-to-style texture when you wake up. Silk contains exactly 18 amino acids but also natural proteins, and therefore helps to avoid friction and knots, and to preserve the fiber's hydrolipidic barrier.
As for washing , silk requires gentle washing to preserve it over time. But you don't have to wash it by hand! It goes just as well in the machine with a delicate program at 30°, with suitable detergent. Nothing's easier !
The charlotte will protect your care, and allow you to lie down in your bed without dirtying your pillowcases.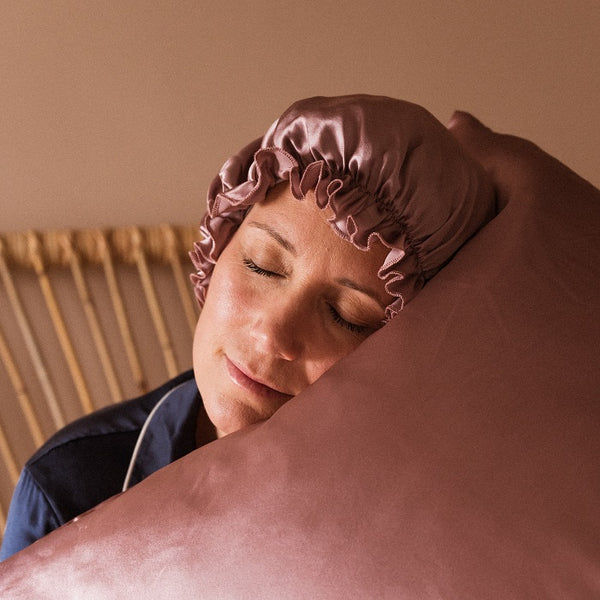 1 - Silk night cap with elastic
Night caps charlotte cut from Emily's Pillow are equipped with an elastic to ensure all the necessary comfort during your sleep.
Whether on straight, frizzy or curly hair, our caps stay in place overnight.
Because we pay attention to detail, we have thought about your comfort by integrating discreet elastic and careful finishes. This is the MUST HAVE accessory of the moment to preserve your hair.
An unmissable trend that is not going to stop!
Your silk hat is a real investment that will serve you well and with which you will see a real difference!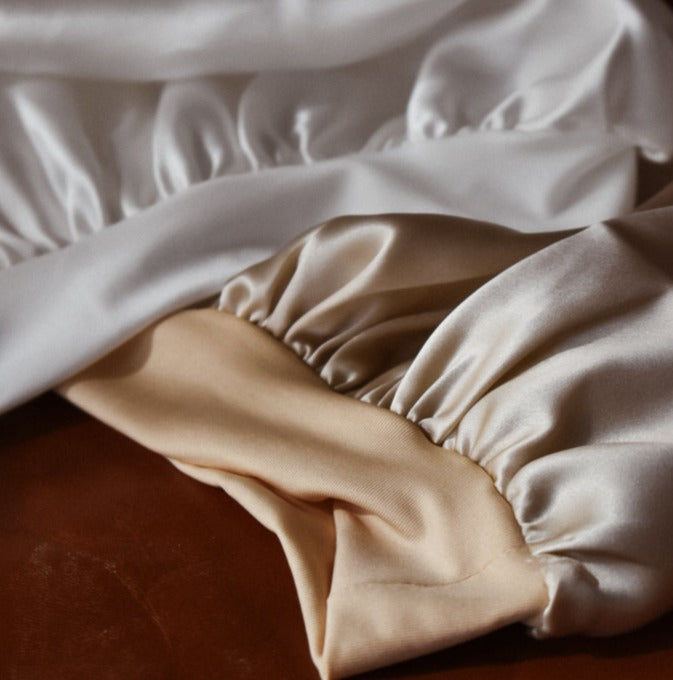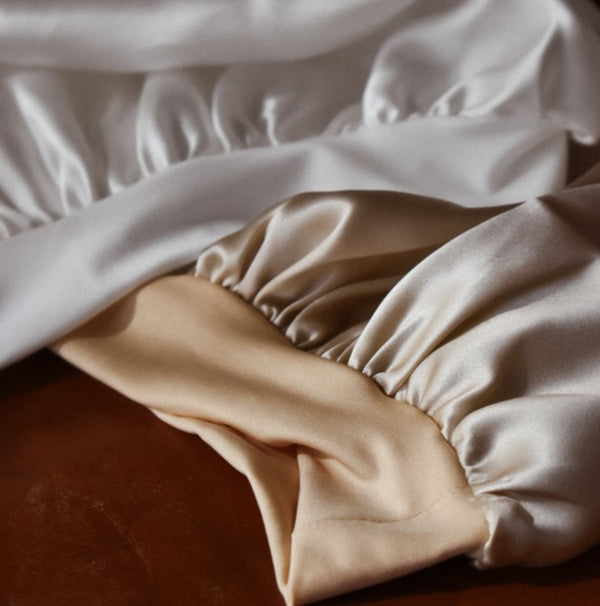 2 - Night cap with headband
It's super comfortable and doesn't move a bit during the night. It has a wide border for a supportive effect. Wearing a silk night cap helps keep your pretty protective hairstyles in place and prevents them from getting damaged too quickly, it will also allow your braids, braids, twists, buns, and all other protective hairstyles to last longer .