As you probably know, sleep is a large part of our lives.
Indeed, we consider that we spend a third of our lives sleeping .
Unfortunately, many of us do not get the recommended amount of sleep every day, due to many reasons.
Furthermore, as we have already explained, reduced sleep time or poor sleep quality promotes the development of various problems, particularly psychological and physical.
This is why the silk sleep mask from Emily's Pillow is an essential, thanks to the different benefits it provides.
This high-end sleep mask will help improve our sleep and well-being.
Sleeping with a silk sleep mask allows you to make the most of your nights. Its advantages far outweigh its primary function and you will quickly understand it.
What are the 10 benefits of a silk sleep mask?
Without further ado, we let you discover the 10 benefits of using a carefully selected silk sleep mask, just for you.
1) The silk sleep mask is hydrophobic thanks to the silk it is made of
First of all, as you probably know, silk is hydrophobic thanks to the 18 amino acids that make it up, allowing the skin's hydration to be preserved as naturally as possible.
The silk sleeping mask from Emily's Pillow helps maintain skin hydration without absorbing your cream.
In addition, you will take full advantage of the active ingredients in your eye contour cream and serum, unlike a synthetic or cotton mask.
Sleeping mask helps maintain skin hydration without absorbing your cream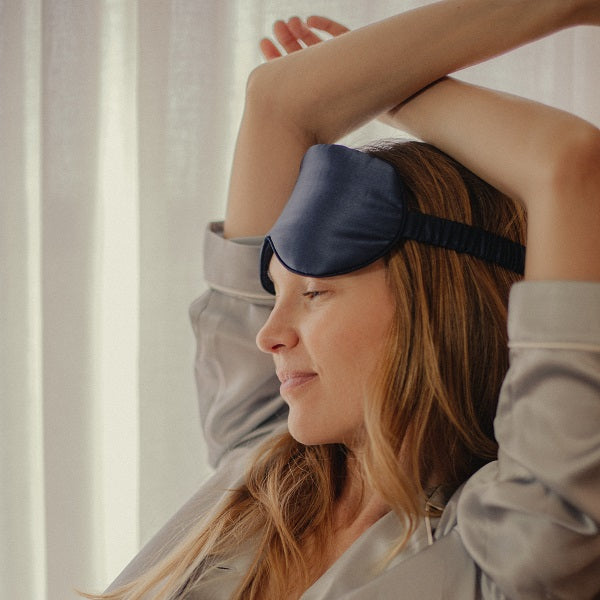 Mulberry silk is known for its moisturizing properties, which keep your skin soft, smooth and hydrated.
No more long, useless Skincare routines absorbed by your cotton masks, the silk sleeping mask from Emily's Pillow is THE solution you need in your everyday life, especially if you want to guarantee the benefits of your routines eye contour.
Goodbye to classic sleeping masks that quickly dry out your skin, absorb your creams or even irritate your skin.
2) The silk night mask is thermoregulatory
This is the advantage that we find most appreciable.
Indeed, the silk sleeping mask maintains the temperature of your face, thanks to the hydrophobic material of the silk and its quality mesh which lets your skin breathe gently. The night mask allows you to stay cool in summer and warm in winter. Silk is more recommended for people with sensitive and fragile skin or even for people with night sweats.
3) Silk sleep mask is easy to carry
On a plane, on a train, at a friend's house, for a nap, you can take it everywhere with you while still being able to store it easily. You can enjoy deep sleep with complete darkness anywhere and at any time of the day.
Want to take a nap on the train, on the plane, in the middle of the day? Now you have the solution.
But that's not all, your Emily's Pillow silk sleep mask is delivered to you in a pretty box in Emily's Pillow colors, which will protect it when you travel, but it can also be useful for storing your jewelry , accessories or even your beauty products!
And yes ! Even our box goes beyond its primary function. Emily's Pillow thinks of everything for the well-being of its customers.
4) Lasts over time.
The silk sleep mask lasts over time, thanks to its quality and very precious nature. The silk sleep mask is therefore a long-lasting investment. When you buy a silk sleep mask from Emily's Pillow, you can be sure that it will last over time. It will accompany you at least for your next 5 years.
By taking our sleeping masks, you stop spending money on sleeping masks every 3 months.
Emily's Pillow, thinks of everyone for your well-being.
5) Silk sleep mask protects the eyes
You've probably already heard it, but sleeping with your eyes closed is not enough to protect your pretty eyes against the external elements.
Indeed, during your sleep, the eyes can be affected by numerous external attacks such as light, dust or mites.
Thus, this night mask allows you to sleep without external elements reaching your eyes, and without chemical treatments or harmful to health.
Likewise, the silk sleep mask helps you avoid rubbing your eyes against your pillow or blanket.
This is very important because rubbing your eyes against your pillow or blanket can cause eye irritation or infections.

In addition, if you have eyelash extensions, the Emily's Pillow night mask is your ally for the rest of your nights.
In short, protecting your eyes while you sleep is crucial to maintaining good eye health and avoiding numerous infections.
So, do you want to protect your eyes while you sleep?
You now know which accessory to use.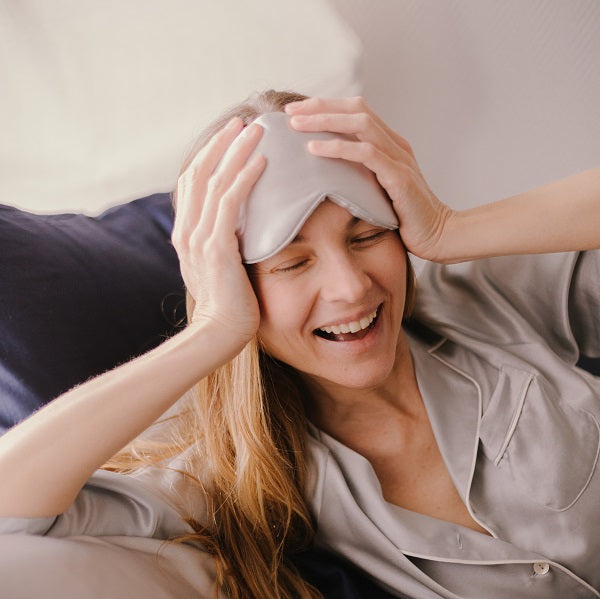 The sleeping mask can help reduce the appearance of our dark circles and bags under our eyes.
6) Preserves the skin
The silk lets your skin breathe. The latter is delicate, and brings a feeling of well-being to your eyes, while you sleep.

By using a silk sleep mask you allow air to circulate freely, and therefore maintain good blood circulation. Which is very important to maintain healthy skin.
Likewise, by letting your skin breathe, you avoid clogging pores and reduce the appearance of skin problems.
7) The silk sleep mask has an anti-aging effect thanks to the silk it is made of
Yes, you are not dreaming, the silk night mask has anti-wrinkle properties, thanks to its naturally known amino acids in silk protein. It will thus, thanks to its numerous virtues for the skin, reduce the appearance of wrinkles around the eyes. Yes, you read correctly, these components have real benefits for skin health.
What if you made Emily's Pillow silk sleeping mask your little secret to prevent the appearance of the first wrinkles around the eyes?
Be careful, however, aging is a completely normal, natural and inevitable process for both women and men.
Beauty is not defined by standards, although in our current society it is difficult to apply this rule. Emily's Pillow is here to remind you.
9) This premium sleep mask is comfortable
It is very important to have comfort during our sleep, in order to promote fully restful sleep.
It also has beneficial effects on our mental and physical health. Comfort helps reduce stress .
This is why we favor this eye sleep mask because mulberry silk is so soft that you will forget the presence of the silk sleep mask on your eyes, thanks to its soft natural fiber which does not cause friction on the eyes. your skin.
The latter is very soft, to the point of improving the quality of your sleep. It will not cause you any discomfort during your sleep.
But did you know what mulberry silk is?
Emily's Pillow night sleep masks are made from 100% mulberry silk . This silk is, moreover, the best silk in terms of the benefits it grants and its durability. 
Indeed, mulberry silk is a high quality natural fiber. It is produced by Bombyx mori silkworms which feed on white mulberry leaves.
When silkworms eat mulberry leaves, they spin a pearly white cocoon.
This two-protein cocoon containing amino acids is also present on our body. This is why mulberry silk is soft and pleasant on our skin.
Mulberry silk is also used to make luxurious textiles. It is also a very well-known ingredient in beauty products.
10) Promotes sleep
As you can see, the silk sleep mask from Emily's Pillow helps you fall asleep, thanks to the softness of silk, the darkness, and the regulation of your body temperature, as mentioned previously. . If you are sensitive to light, the high-end sleep mask from Emily's Pillow is the solution you need!
As soon as there is no light, it stimulates melatonin. Thanks to this sleep hormone, body temperature drops as well as blood pressure, you will subsequently find it easier to fall asleep. And yes, when you wake up you are much more rested and relaxed. Isn't that what you need?

Remember that sleep is essential for the growth, development and preservation of our cognitive abilities.
On the other hand, it is important to emphasize that the Emily's Pillow night eye mask is not a medical treatment, and we strongly advise you to consult a health professional if you experience sleep problems. frequent.
Little bonus, just for you
Our silk sleep mask is machine washable, although this accessory is very resistant, it requires gentle washing in order to preserve it over time. Machine washing for our silk sleep masks is done on a delicate program at 30°.

The Emily's Pillow night sleep mask is hydrophobic, thermoregulating, comfortable, promotes sleep, has anti-aging effects, preserves the skin and eyes, lasts over time, and is easily transportable.