Curly, frizzy, frizzy hair, or even straight but very dry hair, tends to cling to cotton-type materials. During the night, we move around a lot and this creates friction between the hair and the pillow, which causes hair breakage. The needs for hydration, nutrition and protection are therefore essential to fight against dryness and breakage, even during the night.

To remedy this, there is the silk night cap which is undoubtedly one of the best allies for our hair. The Emily's Pillow bonnet is 100% made of silk, and protects your hair during the night. It will create a barrier between our hair and the pillow, if it is not made of silk.
The advantages of the silk night cap
The silk night cap is a very popular accessory for men and women. They are very useful when you are looking for improvement in the quality of your hair. The silk cap makes your hair less brittle and reduces tangles, whether on straight, frizzy or curly hair.

The silk will preserve the hydration of your hair. The amino acids contained in silk help maintain hair hydration. They will therefore be brighter and less brittle.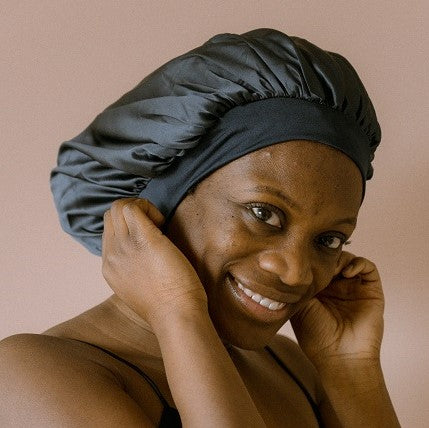 If you are looking for a night cap, here are the benefits of the silk night cap.
1) Cheaper than the pillowcase
If you want to turn to silk to improve the condition of your hair, but pillowcases are too expensive, you can opt for Emily's Pillow silk nightcap.
With the silk night cap you will obtain the same effects on your hair as with the silk pillowcase.
2) Sustainable over time
When you buy a silk night cap from Emily's Pillow, you can be sure that it will be durable over time so that you can use it for several years. This will allow you not to part with it too quickly.
3) Transportable
When you want to take a trip, you can't always take your pillowcases with you. If you want to make sure you can enjoy the benefits of silk, it's important to make sure you have a nightcap that doesn't take up a lot of space.

You can use the Emily's Pillow pouch which comes directly with the silk bonnet, it will allow you to store it easily, and not have to worry about it. This will make your travel easier.
4) Prevents hair from drying out
Using a silk night cap also helps prevent hair from drying out. Indeed, when you sleep, your hair is exposed to friction. This is why it is important to protect your hair well at night.

Cotton is a widely used material but it is not necessarily beneficial for the hair because it tends to dry it out and absorb sebum. The silk cap will prevent the hair from rubbing with the cotton and will help maintain hydration.
5) Avoid knots
When you wear a silk night cap, you can avoid ending up with tangles in your hair. This happens most of the time when sleeping on cotton, as this material promotes tangling and drying of the hair.
6) Allows curls to be maintained
One of the benefits of using a silk night cap is that it helps keep your hair in place while you sleep. This prevents you from having messy hair. This allows you to save time in the morning because your curls have not been damaged overnight, so they will be structured and defined when you wake up.
A silk night cap is a very interesting accessory for sleeping well.
It allows you to protect your hair and provide good maintenance quite easily. It also offers good protection against the friction that we subject our hair to during the night.